Counseling for Children
Being healthy is key to a long, happy life. That includes a healthy body as well as a healthy mind. Sometimes kids struggle with how to deal with certain feelings, events and situations. Some need help understanding how to control their behavior and emotions, or how to manage stress.
If a child's behavior is causing repeated problems at school or is disrupting family life, it's important to get help. When children have emotional or behavioral problems, the earlier they get treatment, the easier it is to help them. Kids and teens can benefit greatly from professional counseling when they have problems they can't cope with alone.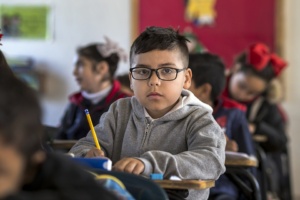 In school counseling services
Lutheran Counseling and Family Services of Wisconsin has been providing In School Counseling services to Milwaukee area schools for over 25 years for children identified as being at risk for mental health or behavioral issues or concerns.
The COVID-19 pandemic of 2020 has affected people of all ages but has been particularly and in all impactful on children. Experts agree that socio-economic disruption, isolation, fear and uncertainty are leading to chronic mental health issues which may affect children throughout their lives. Recent studies show increased rates of depression, anxiety and post-traumatic stress disorder in children have been steadily rising. Access to mental health counseling is extremely limited in Wisconsin, especially for children. Providing counseling in schools is the most efficient way to reach children. The Association for Children's Mental Health finds that early intervention can improve a child's resilience and ability to succeed. 80% of students receiving professional care show significant reduction of symptoms and an improved quality of life. Professional counseling can help reduce potential long term consequences such as dropping out of school, incarceration, addiction and suicide.

Counseling in a School Setting
LCFS currently serves 18 schools in the Greater Milwaukee area. Many are private/parochial with students coming from across various neighborhoods. Each of LCFS's in-school counselors are advanced trained in child and adolescent psychology, trauma recovery and family counseling. They assess, diagnose and treat children referred into the program and treat real time challenges. Their work has proven beneficial not just to the students, but to the teachers and school staff as well. By helping staff recognize the symptoms of trauma, counselors and teachers can work in partnership to help a child feel safe and receive proper care and treatment. Counselors also work with teachers and administrators to help them better understand their students' behavioral issues.
What Happens in Counseling Sessions?
With parental permission, the student is evaluated by an LCFS counselor and a personal plan of goals and progress points are established. The LCFS counselor will work very closely with parents, teachers and administrators to ensure counseling is done discreetly and woven seamlessly into the child's school day. A student will be seen regularly until individualized goals are met. Learn about our counselors' unique mission statements.
Therapists will share activities and ideas that focus on learning the skills each individual child needs to improve upon. They talk through feelings, solve problems and provide support as kids develop new skills and confidence. Students are taught skills for conflict resolution, problem solving, coping skills, stress reduction, healthy peer relationships and will receive counseling strategies specific to any diagnosis.
Parents, teachers and administrators are kept appraised of the sessions to ensure all understand the reasons behind the child's behavior and are on the same page in helping that student achieve success. The counselors will often work directly with teachers offering suggestions and techniques in dealing with specific students and situations and also with parents to provide a stronger continuity of support between school and home life for that child.
Costs
There is no cost to the school for this service and minimal costs to parents. With insurance coverage, the health insurance coverage will be billed. A co-payment may or may not be required, depending on a family's insurance policy. LCFS does offer a generous sliding fee scale and assistance to those who cannot afford payments. This is made possible through generous grant support provided by local foundations who share a common interest in supporting, empowering and developing youth. See a couple listing of donation foundation here.
Facts and Figures
As high as 20% of all children experience some type of mental health issue. Most of these children are not receiving needed services 75-80% of the time.
Anxiety-related disorders are most common at the high school level (ages 13-18). Common signals include missed school, feeling unsafe, depression, social isolation and change in sleeping/eating patterns.
According to the Journal of the American Academy of Child and Adolescent Psychiatry, almost half of children in the United States experience some type of mental health disorder before age 18, and about 1 in 5 children has, or has had, a severe mental health concern. When left unaddressed, these issues can have long-term negative effects and take a heavy emotional, social, cognitive and financial toll on children and their families. Mental health in individuals of all ages affects physical health, education, social relationships, economic success and more.
Based on a Report to the Wisconsin Legislature in 2014, the Office of Children's Mental Health found that In Wisconsin almost 69% of adolescents who experience a major depressive episode do not receive treatment. Access to mental health services in Wisconsin is extremely limited, especially for children, Children of color, without insurance, or who reside in challenged socio-economic areas face even greater barriers to treatment. (Mental Health America 2016).
Many of the students seen by LCFS counselors show signs of traumatic childhood experiences and about half score high for exposure.to violence in their homes or neighborhoods. LCFS's In School Counseling Program offers a solution and a path for children in crisis to receive needed professional counseling services.
Providing counseling in a school environment can dramatically improve these numbers. By working in collaboration with the schools, LCFS counselors can advocate for students, help teachers with classroom dynamics and provide convenience and peace of mind for parents. Timing is convenient during the school day and no additional transportation needs are required.